If you're looking for a luxurious driving experience in Toronto, a Ford Lincoln SUV is the perfect vehicle. With its sleek design and high-quality features, this luxury SUV is the ultimate way to travel in style. In this article, we'll explore why a Ford Lincoln SUV is the best choice for driving in Toronto, the best places to drive a Lincoln in the city, the advantages of buying a new Lincoln SUV for sale, and the classic luxury of the white SUV from Lincoln.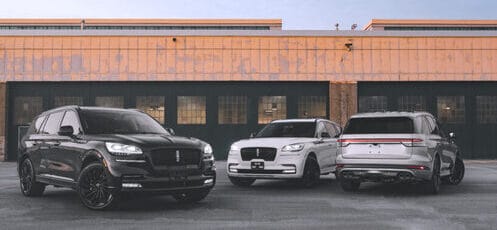 Why Choose a Lincoln in Toronto?
Toronto is a vibrant and bustling city with a lot to offer, and a Lincoln vehicle is the perfect way to experience everything it has to offer. With its spacious interior, comfortable seating, and advanced technology, a luxury car provides a smooth and enjoyable driving experience. Whether driving on the busy streets of downtown Toronto or exploring the scenic routes outside the city, an SUV from Lincoln is the perfect vehicle for any occasion.
One of the main advantages of driving a magnificent Sports Utility Vehicle in Toronto is its versatility. With its all-wheel drive capability, this SUV is perfect for navigating the city's snowy streets during the winter months. Additionally, the advanced safety features of a Lincoln provide peace of mind while driving in busy areas or on highways. The Lincoln Co-Pilot360™ suite of driver-assist technologies includes features such as blind spot detection, lane departure warning, and automatic emergency braking, making driving safer and more enjoyable in Toronto.
The Best Places to Drive an SUV from Lincoln in Toronto
Toronto has a lot of great places to explore, and an SUV from Lincoln allows you to do it in style. One of the best places to drive a Ford Lincoln SUV is along the Toronto waterfront. With its scenic views of Lake Ontario and the city skyline, the waterfront is perfect for a leisurely drive. The historic Distillery District is another great place to explore in a Lincoln vehicle. This pedestrian-only area is filled with cobblestone streets, art galleries, and unique shops, making it the perfect destination for a day trip.
Taking your SUV outside the city is a must if you're looking for a more scenic drive. The Niagara Escarpment is a popular destination for drivers, with its winding roads and stunning views. Additionally, driving along the shores of Lake Simcoe provides a peaceful and relaxing escape from the city's hustle and bustle.
The Advantages of Buying a New SUV from Lincoln
Buying a new Ford is a wise investment for anyone looking for a luxurious driving experience. With its advanced technology and high-quality features, a new Lincoln provides drivers and passengers a comfortable and enjoyable ride. Buying a new SUV ensures you get the latest safety features and technology.
Another advantage of buying a new SUV is its reliability. With regular maintenance and care, a new Ford Lincoln SUV can provide years of trouble-free driving. Additionally, new Lincolns come with a manufacturer's warranty, providing added peace of mind and protection.
The White SUV from Lincoln: A Classic Luxury Vehicle
The white SUV from Lincoln is a classic luxury vehicle that has been a popular choice for drivers for many years. With its sleek design and high-quality features, the white Ford SUV is the ultimate way to travel in style. Additionally, the white exterior provides a timeless and elegant look that never goes out of style.
One of the main advantages of owning a white SUV is its versatility. The white exterior complements any interior colour, providing a classic and sophisticated look. The white exterior is also easy to maintain and keep clean, making it the perfect choice for drivers who want a low-maintenance luxury vehicle.
Driving a Ford Lincoln SUV in Toronto, Canada is the ultimate way to experience the city's vibrant culture and scenic beauty. With its advanced technology, high-quality features, and sleek design, this SUV provides a luxurious driving experience unmatched by any other vehicle. Whether exploring the city's bustling streets or escaping to the peaceful countryside, a Lincoln is perfect for any occasion. So why wait? Visit your local Lincoln dealership today and experience luxury on the road like never before.