Research and Resources
Welcome to the ultimate research and resources hub for Yorkdale Lincoln, your premier destination for luxury SUV models in Toronto and the GTA. If you're seeking refined automotive experiences and a comprehensive lineup of premium vehicles, you're in the right place.
The demand for luxurious and performance-driven vehicles is ever-present in the bustling urban landscape of Toronto and its expansive GTA surroundings. As an esteemed dealership, Yorkdale Lincoln caters to the discerning preferences of drivers who prioritize sophistication, comfort, and advanced technology in their automotive choices.
Our curated collection of SUV models exemplifies the epitome of luxury and innovation. The Lincoln Corsair, a compact luxury SUV, effortlessly blends elegance with versatility, making it an ideal companion for navigating city streets and scenic getaways. For those who seek a harmonious fusion of power and elegance, the Lincoln Aviator awaits, offering an elevated driving experience that leaves an indelible mark.
The Lincoln Nautilus stands as a testament to meticulous craftsmanship and cutting-edge features. Its distinctive design and attention to detail set it apart, reflecting the commitment of Yorkdale Lincoln to provide an exclusive driving encounter. And then, there's the Lincoln Navigator, a true icon of opulence and grandeur. With its commanding presence and opulent interior, the Navigator transforms every journey into an unforgettable expedition.
In the ever-evolving landscape of automotive technology, Yorkdale Lincoln remains at the forefront. Our research and resources page is your gateway to understanding the advancements that have extended the boundaries of luxury SUV ownership. From innovative infotainment systems to state-of-the-art safety features, we delve into the intricacies that redefine modern driving.
As you explore our meticulously crafted content, you'll gain insights into the nuances that differentiate each Lincoln SUV model. We've compiled comprehensive comparisons, performance analyses, and feature breakdowns to assist you in making an informed decision that aligns with your preferences and lifestyle.
At Yorkdale Lincoln, we understand that purchasing a luxury SUV goes beyond the transaction; it's about embarking on a journey of sophistication and excellence. Our commitment to customer satisfaction is reflected in our pristine lineup and the guidance and support we provide throughout your ownership experience.
Whether you're seeking the perfect luxury SUV in Toronto, GTA, or simply wish to stay updated on the latest automotive trends, our research and resources page is your trusted companion. We invite you to immerse yourself in the world of Lincoln SUVs, where innovation, elegance, and performance converge to redefine your driving encounters.
Discover the Yorkdale Lincoln Experience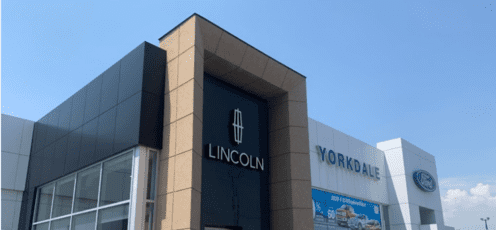 SUV Models