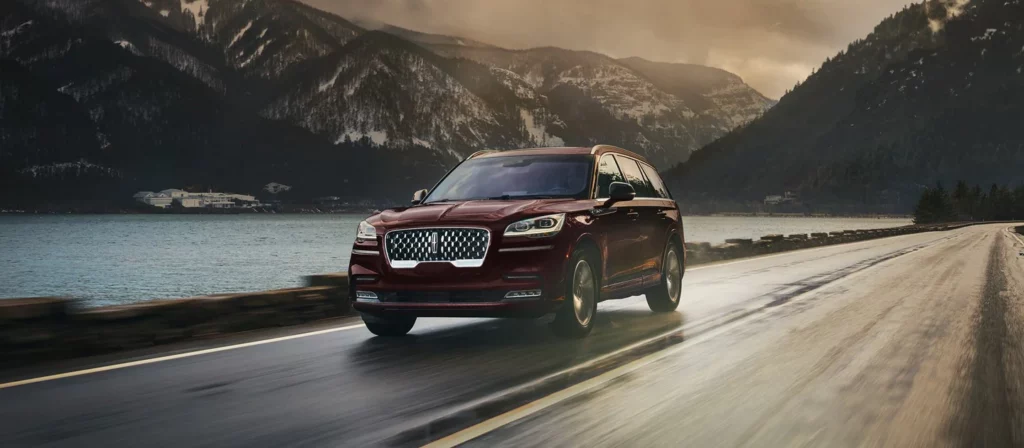 The Lincoln Aviator is definitely worth considering if you're in the market for a luxurious and powerful SUV. And if you happen to be in the Toronto area, you're in luck – plenty of Lincoln dealerships in the region offer the Aviator and other Lincoln models for sale.
Why Driving a Lincoln is the Ultimate Experience
Luxury in Motion – The All-New Lincoln Corsair
The Lincoln Aviator is a luxury midsize SUV that combines elegant styling with a comfortable and spacious interior. The Aviator perfectly blends classic styling and modern technology, making it a top contender in the luxury SUV segment. The exterior of the Lincoln Aviator is sleek and sophisticated, with a prominent grille and a flowing roofline. The LED headlights and taillights add a touch of elegance to the vehicle, while chrome accents give it a premium look. The Aviator is available in various vibrant colours, including Infinite Black, Flight Blue, and Gilded Green.
The Lincoln Aviator has features designed to provide a smooth and comfortable ride. It has various engine options, including a hybrid model with impressive fuel efficiency. The Aviator also boasts a spacious and well-appointed interior, with plenty of room for passengers and cargo alike.
Inside, the Lincoln Aviator offers a spacious, luxurious cabin that provides comfort and convenience. The front seats are heated and ventilated, offering a massage function that can help relieve stress and fatigue during long drives. The second-row seats are equally comfortable and can be adjusted to provide additional legroom or cargo space.
The Aviator has many advanced features, including a 10.1-inch infotainment system, a 14-speaker audio system, and a panoramic sunroof. It also has a suite of driver-assist features, including adaptive cruise control, lane departure warning, and automatic emergency braking.
One of the key benefits of shopping for a Lincoln SUV in Toronto is the wide range of models and options available. Whether you're looking for a compact crossover or a full-size luxury SUV, you'll find plenty of choices from Lincoln and other top brands. And with so many dealerships in the area, you can easily compare prices and features to find the perfect vehicle for your needs and budget.
Of course, when shopping for a luxury SUV, you want more than just a great vehicle – you want exceptional service and support. That's where Lincoln dealerships in Toronto genuinely shine. They're staffed by knowledgeable and friendly salespeople who can help you find the right vehicle for your needs. Once you've purchased a Lincoln, you can count on top-notch maintenance and repair services to keep your Lincoln running smoothly for years.
Whether you're in the market for an Aviator or any other Lincoln model, shopping for a Lincoln SUV in Toronto is a wise choice. You can enjoy the luxury and performance you deserve with a wide range of options and exceptional service. So why wait? Visit your local Lincoln dealership today and discover the many benefits of driving a Lincoln SUV.