The Black Label designation on a Lincoln SUV signifies a higher level of luxury and exclusivity. It is a special trim level available on select Lincoln models, including their SUV lineup. When you see the Black Label badge on a Lincoln SUV, you can expect a vehicle crafted with the utmost attention to detail and offering a premium driving experience.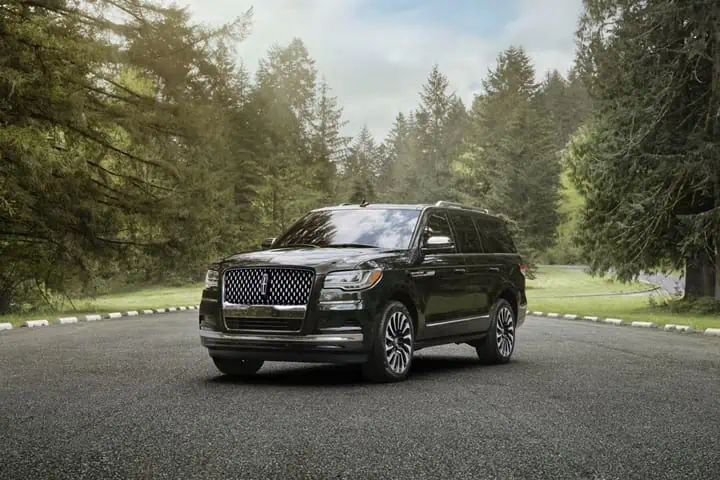 The Black Label designation represents the pinnacle of luxury within the Lincoln brand. It caters to the discerning customer seeking the finest automotive craftsmanship and features. The Black Label models have unique design elements, luxurious materials, and advanced technologies, making them a hot commodity in Mississauga and Toronto, Canada. 
Exclusive Interior
One of the key features of a Lincoln Black Label SUV is its exclusive interior. These vehicles offer a range of premium materials, such as Venetian leather, Alcantara suede, and exotic wood trims, to create a truly luxurious and comfortable cabin. The seats have intricate stitching and feature adjustable settings for optimal comfort. Additionally, Black Label models come with unique colour schemes and design themes that use art, travel, and culture as inspiration.
In addition to the luxurious interior, Black Label SUVs also come with various advanced technologies and convenience features. These include upgraded sound systems, enhanced connectivity options, and driver-assistance technologies that provide added safety and convenience on the road. From premium audio systems to advanced navigation systems, Black Label models are equipped with the latest in-car technologies to enhance the driving experience.
The Black Label designation also comes with additional perks and benefits. Through their Culinary Collection program, Lincoln offers exclusive ownership privileges for Black Label customers, such as complimentary maintenance, car washes, and access to a curated list of culinary experiences. These benefits provide an elevated ownership experience for Black Label customers.
In summary, the Black Label designation on a Lincoln SUV signifies a vehicle with the highest level of luxury, craftsmanship, and exclusivity. From its premium materials, unique interior design, advanced technologies, and ownership privileges, a Lincoln Black Label SUV delivers a truly exceptional driving experience.
Why did Lincoln Create a Black Label for SUVs?
Lincoln, a luxury car brand known for its high-quality vehicles, made a strategic move by creating a Black Label for its SUVs. Several factors drove the decision to introduce this exclusive line of SUVs. Firstly, the demand for black SUVs is steadily increasing. Customers looking for a sleek and sophisticated vehicle often opt for a black exterior, which exudes elegance and sophistication. Lincoln recognized this trend and wanted to cater to the needs and preferences of their discerning customers.
In addition to the popularity of black SUVs, Lincoln wanted to establish itself as a leading player in the SUV car market. SUVs have become increasingly popular among consumers due to their versatility, spaciousness, and durability. By creating a Black Label for their SUVs, Lincoln aimed to position themselves as a top choice for luxury SUV buyers. The Black Label represents the pinnacle of luxury and exclusivity, appealing to customers who desire the best of the best.
Black Label is luxury and refinement
Furthermore, Lincoln has always been synonymous with luxury and refinement. Introducing the Black Label for their SUVs aligns with the brand's commitment to providing exceptional experiences and superior craftsmanship. These Black Label SUVs have premium materials and attention to detail. From the moment customers step inside, they are in an atmosphere of opulence and sophistication.
The Black Label also offers customers a personalized ownership experience. Each customer is assigned a dedicated concierge who assists them throughout the entire purchasing process. From selecting the perfect combination of exterior colour and interior trim to arranging maintenance services, the concierge ensures that every aspect of the ownership experience is seamless and enjoyable.
By creating a Black Label for their SUVs, Lincoln has successfully elevated their brand image and strengthened their position in the luxury car market. The black SUV trend, coupled with Lincoln's commitment to excellence and personalized service, made this move strategic. The Black Label SUVs are not just vehicles; they symbolize prestige and exclusivity, appealing to customers seeking luxury and refinement. With this introduction, Lincoln has solidified their status as a leader in the luxury SUV segment.
Auto News at:
What Does The Colour Black Mean On A Lincoln SUV?
Why Lincoln Cars are Considered Luxury SUVs?
Identify the target audience of the Lincoln Corsair in Canada